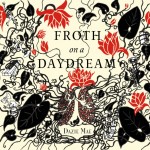 Can't Be Serious Records is thrilled to announce the release of DAZIE MAE'S 4th album: "FROTH ON A DAYDREAM".
"FROTH ON A DAYDREAM" is freely inspired Boris Vian's cult novel "L'Ecume des jours", published in 1947. The novel tells the love story of Colin and Chloe, whose tragic ending is due to the girl's mysterious illness: a water lily in her lungs…
Celebrated over the past 60 years as one of the most beloved piece of French literature, "L'Ecume des jours" is a surrealistic tale that inspired Dazie Mae in crafting 20 songs & instrumental pieces blending together blues, jazz & cabaret (and even a drop of bossa-nova and country music!).
The album will be available on December, 8th 2015 on CD and on most popular digital platforms.
About DAZIE MAE
Dazie Mae is a French band created in Paris in the early 00's. In 2009, their first album "Velvet Dress & Stockings" is released under the independent label Can't Be Serious Records. The single "Sofa" is used by luxury brand Dior for in-door advertising, by American stylist Andrew Christian, as well as by Swedish movie director Erika Lust for her movie « Cabaret Desire ». In 2012 and 2013, the song "Sad, Depressed & Lonely" from the album "Songs Matured in Oak" is one of French national radio FIP's selections. "Time with my lover", from the same album, appears in director's Malik Barnhardt movie "C'est la vie" (2014).